December 8th, 2020
Chuck Yeager passed away.
I just heard that Colonel Charles ''Chuck" Yeager has passed away at the age of 97.
When I was a kid, I played his "Flight Trainer" simulator and considered him a hero. I think he was a true hero and also a really good guy. The following passage from the book "The Smell of Kerosene – A Test Pilot"s Odyssey" by Donald L. Mallick impressed me a lot, as it shows the kind of person Yeager was. That is a very interesting book for any aviation enthusiast by the way. And here the passage about Yeager:
Some years later, I asked Mr. Bikle if any particular deciding factor caused him to select me. At that time, he really didn't know me as well as some of the other pilots under consideration. Paul smiled and said, "Don, I asked Chuck Yeager what he thought of you, and he said that you were a good, solid driver." Well, I hadn't really had any interaction with Chuck since my time at the Air Force Test Pilot School. Nevertheless his opinion counted with Bikle. It always amazed me how important something like this could be. Bikle had worked with Chuck at Edwards for years before joining NASA. He had a very high regard for Chuck as a test pilot and an officer. When Chuck called me a "good, solid driver," he was really saying that I was a highly qualified test pilot. It was high praise indeed, and resulted in my promotion.
November 15th, 2020

Thanks to rsflug1247 for the new homepage picture and another two which have been added to the user gallery.


November 15th, 2020
Indonesian La-7

This Indonesian La-7 was created by Atharrais Santoso.
Again this is a fantasy version, as Indonesia did not operate any La-7s in reality.

Click here to download or on the picture (2 zipped jpgs, 1.2mb)


I intend to start a page with user downloads specifically for this kind of user created versions, which may not be authentic and not using the standard expected of Stahlhart Models, so if you have created your own version of any Stahlhart model, don't be shy and share it.
You can send me your files through the userimage email (see contact page)
October 14th, 2020

Thanks to Carlos for the new homepage picture and another one which have been added to the user gallery.
October 14th, 2020
Indonesian A-37

This Indonesian A-37 Dragonfly was created by Atharrais Santoso.
This is of course a fantasy version, as Indonesia did not operate any A-37s in reality.

Click here to download or on the picture (3 zipped jpgs, 2.3mb)


September 2nd, 2020

Thanks to Joe Lo for the new homepage image. Three pics of his Q-5 build were added to the User Gallery.
August 10th, 2020

this site was returned to its usual look. The A-5 versions are all available again.
August 6th, 2020 & August 9th, 2020
Never forget: 75th anniversary of the Atomic Bombings at Hiroshima and Nagasaki
Although I offer the nuclear strike versions of the A-5 for completeness on this site, I am completely against the existence (and eventual usage) of Atomic Bombs, whether they be carried by aircraft or missile.
Therefore I published this memorial to remind people of the nuclear attacks 75 years ago.
July 14th, 2020
Boeing P-26 Peashooter repaints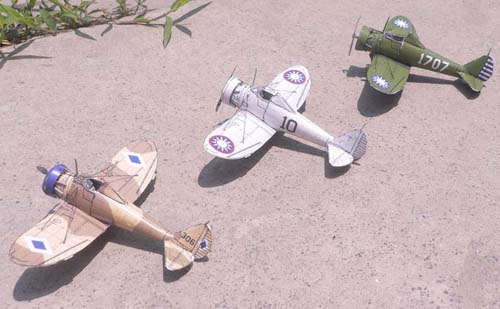 copyright Chip Fyn / Fiddlersgreen.net
My repaints of the Fiddlersgreen P-26 Peashooter are now available from that website. For $5.50 you can not only get those amazing 9 versions plus the two original versions and some extra parts I created, but you will also support that legendary papercraft website, which inspired me to start my own website.
get more info on these versions
GO DIRECTLY TO FIDDLERSGREEN P-26 PAGE
July 1st, 2020

The photo for July is from Karl Schöber, (Thank you, Karl) and I have also added pictures of that build to the user gallery.
I have also added images of Ron Peleg's amazing Gladiator build to the user gallery. (Thank you, Ron)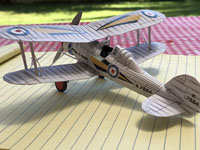 Recently I ran some statistics on my site and this came out:
STAHLHART papercraft website statistics:
on June 20th, 2020 this site...
was hosting532 files for download and
a total of 268312 downloads was counted
These are only the downloads since the introduction of download counters in 2017 and the number includes aborted downloads.
Top 3 downloads are the F-18 instructions, (2216 times), the F11F instructions (2006 times) and the Marauder instructions (1552 times).
The least popular downloads were the CH 801 1:60 versions, with little more than 50 downloads each.
June 1st, 2020

The photo for June is from Ron Peleg, (Thank you, Ron) and I have added two other pictures of his Marauder build to the user gallery.
May 9th, 2020

Added images of the Tweet to the user gallery (Thank you Rapidtox)
May 1st, 2020

I have added two beautiful photos by Hans Sendker to the user gallery, one of which can be seen above.
Would you like to see your model build here as image of the month? Then send me images! The coolest image I receive within the month will be placed here on the home page.
April 7th, 2020

I have added pictures of another build by Panzerwillow to the user gallery. If you have pictures of as amazing builds, send them to me and if they are good enough I may also show them on the homepage for some time.
Oh, and I have also added a new "work in progress"-picture. Can you recognize the subject?
March 26th, 2020

Added images of the Draken and the Marauder to the user gallery (Thank you Leenone and Panzerwillow)
March 17th, 2020

Today, this site is 11 years old! Why not celebrate this momentous occasion by building an F-11?
I hope my friends in all countries taking part in the big Corona Madness have hoarded enough paper, glue and printer ink!
For the lucky ones who have enough material, the time having to stay at home will pass by in a breeze. And the best is there won't be any comments by friends as to "You are so un-social, not coming out to meet us and rather building some silly small models". Staying at home building papermodels is the new way to contribute to society!
Hang in there, and don't lose your sense of humor, we'll all be out of this soon!
February 19th, 2020

Added an image of the rat to the user gallery (Thank you Laura)
February 5th, 2020

LOVE AND RESPECT TO ALL THOSE FIGHTING THE 2019-CoV VIRUS!
My heart is with you, keep up your compassion, strength and dedication.
Creating Papermodels and giving them away for free is easy, what you are doing is what really matters!

January 23rd, 2020

I have added the Building the Rat page.
January 21st, 2020
Year of the Rat

The Rat model for the year of the Rat is now available, just in time for the Chinese New Year Festival on January 25th, the first day of the new lunar year.
Why not build a cute Rat yourself for this special occasion, for yourself or as a surprise to your Chinese family member, friend, co-worker or neighbour?
Or if you are too lazy, grab some of my Chinese New Year cards for sending by email, mobile app or printed.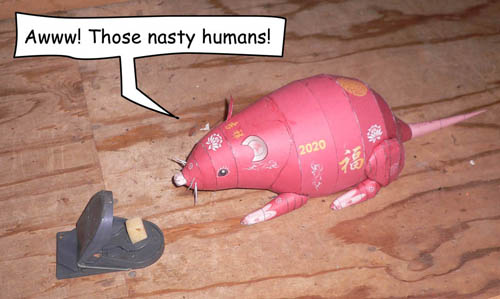 January 1st, 2020

And on we go into a new decade. Happy new year to you!
Within one month,before the Chinese New Year, the animal of the year model will be released, which for 2020 is the Rat.
Also nice are my previous releases, the Cessna 407 and Cessna Tweet