August 4th, 2021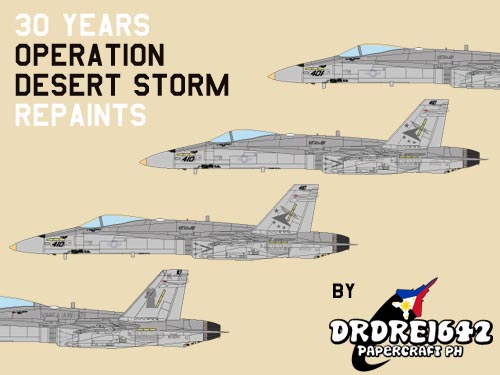 Four special repaints depicting significant aircraft from Operation Desert storm created by Andrei Indita a.k.a. DRDREI642 are now available for download, commemorating the 30th anniversary of Operation Desert Storm
June 8th, 2021

Added 3 new user-gallery pics including the new homepage picture. (Thank you Joe)


May 2nd, 2021

Custom formers
I have added a new page under the help section about how to create formers yourself.
Many thanks to Rainer and Karl for suggesting this.


User repaints
I am very pleased to be able to offer for download two new user repaints by Roland and Dan. Pictures of these versions have been in the user gallery for some time, now you can build them yourself.
User pics
Added 8 new user-gallery pics including the new homepage picture. (Thank you Laura, Roland and Sarkis)
April 8th, 2021

Added 4 new user-gallery pics including the new homepage picture. (Thank you Sarkis)
April 3rd, 2021

About formers
Since I have been asked again several days ago: I will not create additional formers for my existing plane models. Not now and not later. I do not like formers and this website would not exist had I not learned from Fiddlersgreen that nice aircraft models can be done largely without formers. The only parts I find more painful are pointed cones, but those can't be avoided.
That said, I know there are people out there who have created their own sets of formers for my models and I would be very pleased to publish them for all to share. So should you have created formers for any Stahlhart aircraft model, please contact me.
Published user repaints
I have added four new user repaints to the user repaints page.
Many thanks to Gerry Paper Models and Sarkis Hovhannisyan for allowing me to make them available!
If you have a repaint of a Stahlhart model you would like to share, please send them to me. Any repaint is welcome, as long as the print quality is acceptable.

March 17th, 2021

Today marks the 12th anniversary of this website. It first went online 12 years ago, in the previous year of the ox.

I have updated the file for the F-18 Malaysia, as the arrestor hook was missing. Please report errors.
February 19th, 2021

The spotted versions of Cow/Ox are now available.
All other versions have also been updated with small corrections and improvements.
I have also added Building the Cow/Ox, which reports about the design process of the model. Always worth a read and look.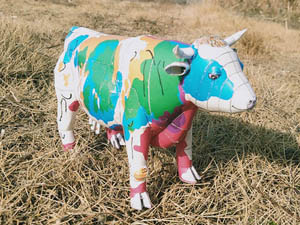 February 13th, 2021

Uploaded the Cow/Ox gallery.
February 11th, 2021
Happy New Year and Happy Chinese New Year!
I am happy to present the animal of the year, the cow/ox. While the Chinese Zodiac for this year is usually translated as Ox, the Chinese Character 牛 niú actually refers to any animal of the bovine species including females. This is why you can build the Stahlhart Model as Cow or as Ox.
I had trouble to get everything done in time for the Chinese New Year's day, tomorrow, which is why the gallery will follow in the next days and the spotted versions in the next weeks. If you are in a hurry to get a spotted version, there is the white fur version, then you'll just need to throw some ink on it when build, could be fun!