July 30th, 2011
It's been long since the last update. Please be ensured, that production is going on, even when it can't be seen from this page. The fruits of what I'm working on will be reaped when they are ripe.

I'm proud to announce today the next building model, which can hopefully be released in 2-3 months, the Old Beijing Drum Tower. I've been working on it for more than half a year by now, and when it will be released, it will be the biggest Stahlhart-model so far.
I have finally added the About building the Rabbit page for those interested in how that model came into existence.

Lastly, if you have wondered, what I'm doing in all the time I don't work on paper models, you can now visit the latest, improved version of my personal website, Hoxity.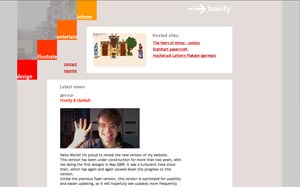 April 2nd, 2011
Rumours of our death have been wildly exaggerated!
In fact, production of new, free models continues. Slower than I like, but steady.
March 24th, 2011
Birthday special ends.
March 17th, 2009
Stahlhart papercraft - 2nd Anniversary
It's time to celebrate the second birthday of Stahlhart papercraft.
For this special day, nine new versions of my first model, the F5D Skylancer will be available. But they are a limited edition and can be only downloaded in the week from March 17th to March 24th. These versions are non-authentic, but explore the fantasy of how the Skylancer would have looked like, had it entered service.
Another special item for this glorious day is the release of the first figures-model, the rabbit. This model was a special gift for my friends, that I have created for the chinese new year in February. Now, I make it available for everyone to download and build.
January 8th, 2011
Happy new year to everyone!
I have added the La-7 stand as well as the info pages and development history pages for Il-2, La-5 and La-7. This means that their release is now complete.
Following today, this website will rest. I'm taking some time off to work on other projects. I may be doing corrections if necessary, but don't expect any updates or new releases to this website until at least March of this year.