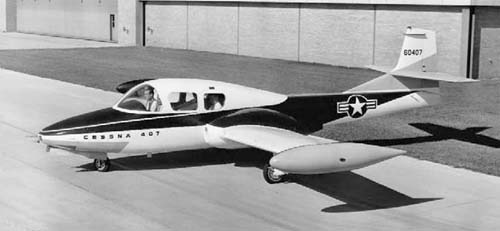 In the 1950s, aircraft companies discovered a future market: Business jets, which made fast individual air travel possible. The U.S. military was also interested in a low-cost light jet with high performance and multi-mission profile. Trying to profit from the new market, the Cessna Company decided to come up with an adaption of the Cessna T-37, which they were largely involved with at the time. It was felt that an adaption of a proven aircraft would lower the cost by also shortening development and testing.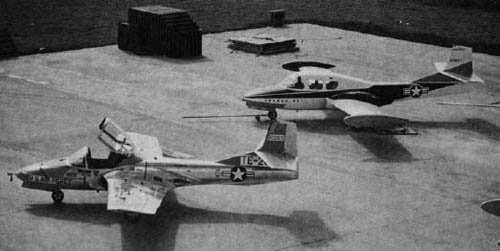 The prototype next to a T-37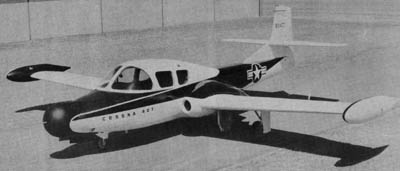 The prototype was later refitted with a weather radar.


This modified T-37 was named the Cessna 407 and was introduced in September 1959. It used as many parts of the actual T-37 as possible to ensure similar reliability. It featured a fuselage that had been stretched by two feet to make space for a four seat cabin. The plane was supposed to retain the T-37's twin steering. Entrance to the modified cabin was supposed to be a door on the starboard side and the rear seats could be removed or folded to make space for cargo. The plane was marketed as a military liaison aircraft and corporate jet transport but failed to win any customers, hence the program was abandoned.


The Cockpit maintained the twin steering of the T-37 reshaped into a design more typical to civilian aircraft


The rear seats could be adjusted to make space for cargo, quite similar to those on some cars.


It is not sure, whether the Cessna 407 actually ever flew, as some sources mention it as having flown while others say that only a full-size mock-up was rolled out. Compared to the T-37, the Cessna 407 will have been a bit underpowered due to the added weight.
A successful aircraft which was developed in a similar way was the North American Sabreline, which used the wings and other parts of the Sabre Fighter. It was purchased by the U.S. military as the T-39 as a trainer and liaison aircraft.

wingspan:

10.26m


length:

9.52m


height:

2.8m


empty weight:

1755kg


max loaded weight:

3630 kg


maximum speed:

4647km/h


range:

1065km
return to top