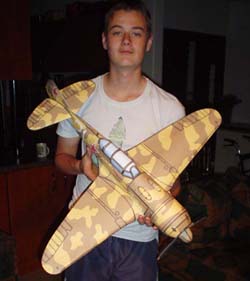 Highly upscaled La-7, build by Werner Smuts


My La-7 technically never had a prototype, as it was modified from the La-5. For this, the central wing section and the connection to the cowling had to be changed. The tricky thing here was how to get it round in the wing root area. I didn't want to split the lower wing section in several parts, and if the upper and lower side are two parts, it will be difficult to get round. The biggest problem in that case was the supercharger intake in the wing root, which I didn't want to be cut through by part edges. This led to the rather interesting-looking swallow-tail appearance of the main wing part. Fitting the front end of the wing section into the cowling was difficult, because it was not supposed to interfere with the landing gear doors.


| | | |
| --- | --- | --- |
| | | |
| | | |
| This shows how unworthy the La-7 began... | | Here the problem of the cowling-wing connection can be seen |

Once that was finished, all that needed to be done was to add the radiator under the fuselage and make some changes in the panel lines, most notably on the side panels below the canopy. Then I produced the additional camo schemes, this time drawing on the computer directly, which had proved useful on the final camo schemes of the La-5.


| | | |
| --- | --- | --- |
| | | |
| | | |
| This shows how unworthy the La-7 began... | | Here the problem of the cowling-wing connection can be seen |

During production of the La-7, right after the Instructions had been done, I sent the war memorial version to my friend Werner. He loved it so much, that he build a largely upscaled version. This gigantic La-5, which I named "Megafin" showed, that even at such a big size, the model turns out nicely.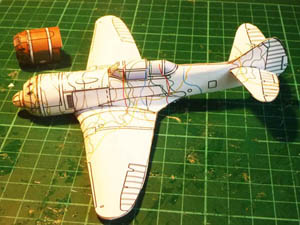 The final beta with camo lines and a La-5 cowling
The cockpit for the La-7 was basically a duplicate of the one for the late La-5's with slighly different panel shape, a different control stick, a modified gunsight and different artwork.
For the re-releases, I took the opportunity to hide a previously unreleased imaginary capruted Luftwaffe version as an easter egg on the stahlhart website.
return to top