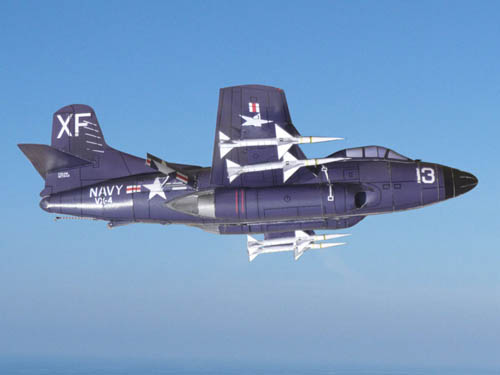 model design started 6/2011 released March 23rd 2012

Category:

military after 1945


Maiden Flight:

1948

The Douglas F3D Skyknight was the first jet that was designed as a nightfighter. It was successfully flown in combat in the Korea war. After serving mostly as a trainer for radar operators, it was used again during the Vietnam war as an ECM-aircraft.
More information on the Skyknight
About designing the model
Model gallery

Please note that this model uses an OUTDATED STANDARD. It will be re-published in the near future with thinner panel lines and a cockpit kit.

Download
pdf / 27 pages / 2.88mb

F3D-2 NATC
Naval Air Test Center, NAS Patuxent River, 1952
Download zipped pdf / 3 pages / 435kb

F3D-2M VX-4
NAS Point Mugu, 1953 (includes Sparrow I missiles)
Download zipped pdf / 4 pages / 729kb

F3D-2 VC-4
NAS Atlantic City, 1955
Download zipped pdf / 3 pages / 426kb

F3D-2 VF-11 "Red Rippers"
NAS Key West, 1954
Download zipped pdf / 3 pages / 721kb

F3D-2 VF-14 "Tophatters"
NAS Jacksonville, 1955
Download zipped pdf / 3 pages / 688kb

F3D-2 FAWTULANT
Fighter All-Weather Training Unit Atlantic, NAS Key West, 1957

Download zipped pdf / 3 pages / 704kb

F3D-2T2 VF-121
NAS Miramar, 1958
Download zipped pdf / 3 pages / 695kb

F3D-2T2 VX-4
NAS Point Mugu, 1958
Download zipped jpg / 3 pages / 700kb

F3D-2T2 VX-4
NAS Miramar, 1959
Download zipped pdf / 3 pages / 695kb

F3D-2T2 VF-101 Detachment A
NAS Key West, 1959
Download zipped pdf / 3 pages / 704kb

F3D-2T2 VFAW-3
Cdr. Eugene Valencia, NAS North Island, 1960
Download zipped pdf / 3 pages / 1030kb

F-10B NAWS

Naval Air Weapons Station, NAS China Lake, 1964
Download zipped pdf / 3 pages / 692kb
F-3D-2 VMF(N)-513 Red 23
Korea, 1953
Download zipped pdf / 3 pages / 711kb

F-3D-2 VMF(N)-513 Red 15
Korea, 1953
Download zipped pdf / 3 pages / 820kb

F-3D-2 VMF(N)-513 Red 9
Pyong Taek, Korea, 1953
Download zipped pdf / 3 pages / 700kb

F-3D2F2 VMFT(N)-20
MCAS Cherry Point, 1954
Download zipped pdf / 3 pages / 679kb

F-3D2F2 VMFT(N)-20
MCAS Cherry Point, 1957
Download zipped pdf / 3 pages / 702kb

F3D Skyknight
F-3D2M VMF(AW)-542
MCAS El Toro, 1957 (includes Sparrow I missiles)
Download zipped pdf / 4 pages / 717kb

EF-10B ECM-Aircraft VMCJ-1
Da Nang, Vietnam, 1966
Download zipped pdf / 3 pages / 716kb

EF-10B ECM-Aircraft VMCJ-2
MCAS Cherry Point, 1968
Download zipped pdf / 3 pages / 704kb

F-10B Raytheon Company
Unknown Unit, 1949
Download zipped pdf / 3 pages / 711kb

White Version

Download zipped pdf / 3 pages / 668kb

AAM-N-2 Sparrow Missiles
Optional Weapons
Red marked Sparrows
Download zipped pdf / 1 page / 23kb

White Sparrows
Download zipped pdf / 1 page / 23kb

return to top