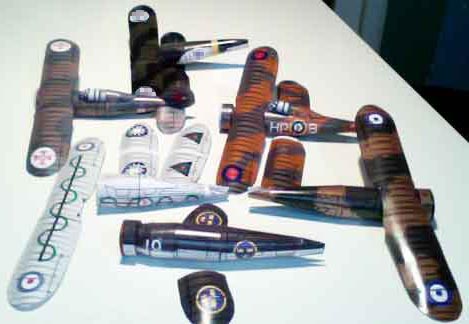 These are test builds to verify the paint schemes.


Building the Gloster Gladiator was fun. Compared to the final release version, my prototype Gladiator was rather simple and reduced. The propeller was fixed and the engine had only the simplified version of the engine. The wheels were of course only 2D and the wing struts were still toothpicks. The first beta was build to already act as a photo ready version, featuring the most important markings on white background. During the creation of the Beta, I figured out a way to build a detailed Piston Engine in a simple way. Rolling each part seemed too fiddly, and since only little of the engine can be seen from behind, I opted for the half version which it became. Except for a little adjustments in the fuselage, the most important part between the two beta's was to get the wing struts to fit.


| | | |
| --- | --- | --- |
| | | |
| | | |
| The prototype without lines | | The prototype with lines |

| | | |
| --- | --- | --- |
| | | These are the pieces of the disassembled prototype as they were scanned. |
These two builds featured in the gallery are actually the first and second Beta

With the gladiator, it took the most time to build all the different versions. I wanted to offer at least more than for the F11F, but the real reason for the many versions is, that I couldn't decide, which version I should leave unmade. The F19 version of course took a little additional work, since I had to create the skis and fit them to the right size. There are so many of the versions I would like to build myself, but this model is not so fast to build. To make sure the paint schemes worked right, I did a number of fuselage tests.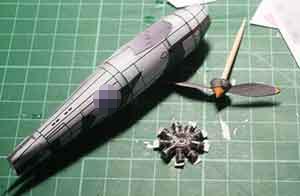 The Gladiator features a detailed piston engine, which can be seen here.

The Gladiator cockpit was created in 2011. Compared to the Cockpits done before – of fighter jets – the Gladiator was a very different challenge. Reference material was abundant, including screenshots from the flight simulation Il-2 Sturmovik.
The challenge were the many small parts needed, such as a skeleton on which everything is hinged, a small compass column, and even the rear ends of the fuselage machine guns are included. Like all the cockpits, it was tested in 1:30 before patterns were added.
The funny thing about the Gladiator cockpit kit is, that maybe only the one who builds it can appreciate its detail, as hardly any of it is seen through the small canopy windows. Although it is possible to build the side doors open, anyone looking at the model, will have to look really closely to see all the detail.


this image of the cockpit test build shows the amount of parts, scaled up to 1:30
The cockpit installed.

return to top